Monday, February 28, 2005
Restful weekend
Friday the 25th
Stormcrow and I arrived late at Eastwood – Ruben and Glenn were already there. We all grabbed a quick lunch of grilled stuff at OJ, then proceeded directly to the cinemas. We missed the Constantine showing time, so we opted instead to watch Lemony Snicket's A Series of Unfortunate Events – a decision I didn't regret, as the movie was very satisfying and fun to watch. After that, we all headed to Blue Skies for another dota session. Jem shortly arrived, followed by Victor. We played a series of 3 on 3 games, took a dinner break at Wham, then went back for some last few games (in which I regressed to a tantrummy person).
Saturday the 26th
One of my college girlfriends, who lives and works in Mindoro, went over to Manila for a visit. It was a chance to complete our batch once again. Four of us met up at NIP, and discovered that the fifth was currently at a parlor having her hair straightened apparently because she was depressed at the moment. WTF?! So after a side trip to the Office of Admissions to peek at the UPCAT results, we decided to all go to the said parlor and confirm this allegation. She was indeed there, and have been there for four hours running! The reason for her depression was still unresolved, however. After a few chats and picture taking, we headed for Cello's for a snack and some very overdue exchange of news. Eventually I had to leave early, because another date was coming up.
This second date for the day was a double date with Ruben and Hiyas. We all met at Haven (where Stormcrow was trading cards), and decided to head right away for a dimsum dinner at Causeway Libis. We got a nice couch booth, and there we tried several varieties of our favourite dimsum and had some very interesting conversation.
Ruben's fortune in tea leaves!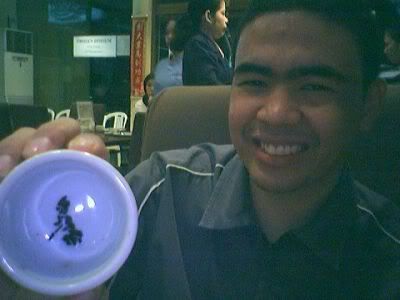 Robinsons Metro East was our next stop, and there we found some interesting PS2 cds and the software cd that Hiyas was looking for. Afterwards we headed to Figaro at the Brick Road for some coffee and more conversation. Stormcrow and I ordered this funny sans rival derivative that was named "My Little Oscar", which was fortunately delicious.
Despite the annoying mosquitoes towards the end of the day, the double date was quite fun and I'm looking forward for more.
Currently listening to:
L'arc en Ciel

Just finished reading:
His Dark Materials trilogy by Philip Pullman

About to start reading:
Lemony Snicket's A Series of Unfortunate Events (The Wide Window)
Raven
Thursday, February 17, 2005
Raven and Stormcrow go to Gonuts
Stormcrow and I have been craving Gonuts Donuts for quite some time now but none of its existing branches are in our area of travel. This year's Valentines date, we thought, would be the perfect time to go on quest for those donuts.

The day started well and soon we were on our way to Greenbelt. Not surprisingly, we encountered hairy traffic in the Makati area since it's the Valentines season. Eventually we were able to park relatively near the place where we remembered Gonuts to be. After walking around the entire place twice, we realized that Gonuts wasn't anywhere in the building. Apparently the food court was under renovation at that particular time.

"No use standing around here any longer," I said. After a brief txt consultation with Stormcrow's mom for directions, we set off for the next nearest Gonuts branch - Fort. I haven't personally driven to Fort so I wasn't very at ease. Sure enough, we made several wrong turns, a fact made worse by nearly nonexistent street lights and unclear directions. Eventually, we found ourselves in the vicinity of the NBC tent, which we knew to be near Gonuts.

Finally! At that point the length of the line was trivial, and shortly we each had our donut boxes. We even got a box of their promo valentine donuts and ate a pair on the spot.

The rest of the date went smoothly. We had dinner, then played dota with Po, Ruben, and Glenn. A round of coffee and some chat, then we headed home.

And left my donuts at Stormcrow's place. Damn.

Raven

Subscribe to Posts [Atom]